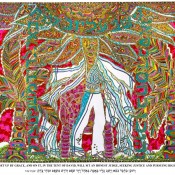 In love a throne will be established;
in faithfulness a man will sit on it—
one from the house of David—
one who in judging seeks justice
and speeds the cause of righteousness.(Isaiah 16:5)
The scripture appears in the form of a Chuppah (Jewish Wedding Ceremony) to symbolize our covenant with God. The Messiah is preparing to sit on the mercy seat as the righteous judge. This takes place in a garden adorned with palm trees and flowers in the cool of the day as he opens wide his arms, covered by the Talit (Jewish prayer shawl) and invites us to be sheltered and protected by his mercy and love. The huge sun above the Chuppah that appears in an array of the colors of the rainbow, is a reflection of God's glory and conceals the face of the Messiah which we will behold only at his true coming. The throne consists of fitted pieces as in a puzzle and symbolizes how each one of us harmoniously fits within the Kingdom of God.
11.5″ x 16.5″
Shipping included